DPCTrack2 calibration software is developed for those who calibrate with a need for power and one that fits within the budget.
Those who calibrate appreciate the difference. Details and functionality are direct to the issue of managing instrument calibrations. Workflow is enhanced, productivity is improved, operational costs are reduced and regulatory compliance is ensured.
Fluke DPCTrack2 calibration software instantly uploads data from Fluke handhelds. It assists in managing field instrument calibration records and verifies in-and out of tolerance conditions. It even sends reminders, alerts and warnings.
Tax Exempt Customers
PA and NJ residents will be charged appropriate tax on purchase.
If tax exempt, please call: 484-266-0599 to order DPCTrack2.
Learn More About DPCTrack2 Calibration Software
Fluke's DPCTrack2 calibration management software instantly captures and syncs data with your Fluke handheld calibrator.
Using a labor-intensive, manual pen-and-paper system steals valuable resources and wastes time. And there's also a high probability for measurement errors.
With DPCTrack2, calibration time drops by 50% or more. Work assignments and calibration results are automatically transferred to and from the Fluke calibrator via a USB or COM connection.
Even if you are already using calibration management software, you stand to gain time and improve productivity by switching to DPCTrack2.
Benefits over a Paper System
Go paperless and get results, not headaches. Point by point, here is how DPCTrack2 compares: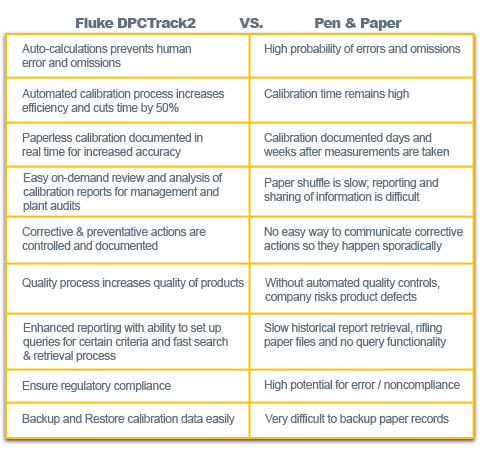 Updates from DPCTrack2
To ensure compatibility with the latest operating systems, DPCTrack2 is the best path forward for upgrading your DPC/TRACK 1.0 or 1.1 system.
Fluke DPCTrack2 offers many advantages over DPC/TRACK. Here are some of the highlights:
Easily imports all your DPC/TRACK exported data files into DPCTrack2
Supports Microsoft® Windows® XP, Windows Vista™, Windows 7
Easier to use with a multi-window interface
Supports HART PV measure and Drywell source features of 744 and 754 DPC calibrators
Improved multi-COM port support
Communicates with your Fluke DPCs easily and without configuration file changes
Easily upgradable to ProCalV5 software
Benefits over Other Calibration Software
Fully leverage the efficiency and accuracy of your Fluke DPC. Fluke DPCTrack2 calibration management software supports the entire range of Fluke DPC 743B, 744 and 754 functionality.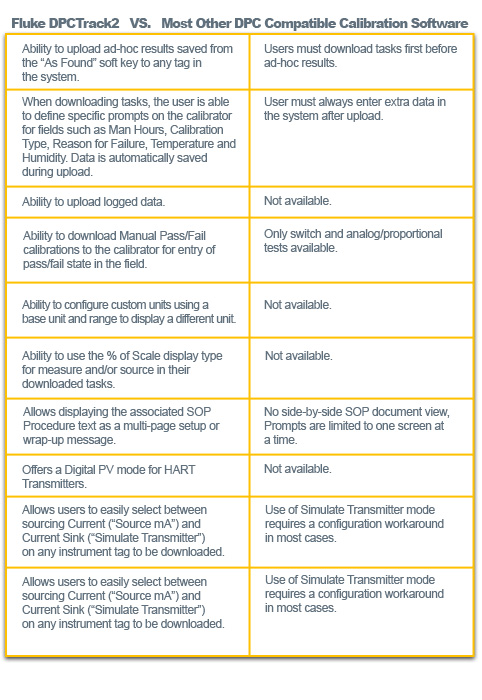 Upgrade to ProCalV5
For small sites or single-user requirements, Fluke DPCTrack2 is a smart investment. Companies needing more advanced features or large network compatibility should consider Prime Technologies' ProCalV5 enterprise-class calibration management software. It's an easy upgrade from the original DPCTrack or DPCTrack2 software.
Most clients that select ProCalV5 need a solution built on strict quality standards that offers superior performance. We invite you to join our growing ranks of satisfied customers.
ProCalV5 incorporates all the functions of DPCTrack2 and more! Highlights of additional features include:
Unlimited number of accounts, users and assets
Full validation and 21 CFR Part 11 compliance
Offline, validated, 21 CFR Part 11 compliant mobile workstations
IQ/OQ validation test scripts
Feature-rich asset management, including maintenance and work orders
Optional add-on test routines for specific devices
Integrates with SAP and other applications
Seamless data transfer from DPCTrack2
Data mapping services from other programs
Validated SaaS solutions
Data Exchange Utility for integration with other applications
We welcome the opportunity to provide a web demonstration or to send you a trial program.
REQUEST A DEMO OF PROCALV5
Our Calibration Experts Are Here For You
From installation to training and every step in between, Prime Technologies provides the full-service support you need to jumpstart your new Fluke DPCTrack2 calibration management software.
Prime Technologies seamlessly migrates your data from most legacy systems and can help with DPC/Track database migration issues. Services range from simple Conversion Program Development to a complete effort including a Data Migration Plan, Requirements Development, Conversion Program Development, Execution and Data Verification for Validation Purposes.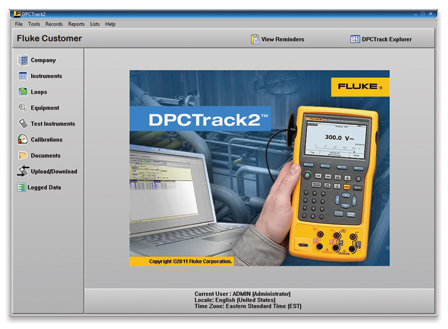 Data Migration
Prime Technologies specialists are available to perform on-site or remote installation of DPCTrack2 and ProCalV5 to meet any IT department requirements.
Implementation
With varying user needs, today's complex QA regulations, software implementation and validation can often be time-consuming. Our thorough, documented, internal testing practices and experienced Prime Technologies deployment experts guarantee a fast go-live schedule and complete project success.
You can rely on our experience staff to assist with any and all aspects of your deployment needs. We routinely offer project plans, documentation, consultation and subject matter experts who are thoroughly knowledgeable with FDA, ISO and other quality regulatory requirements.
Configuration
Rely on Prime Technologies' configuration experts' years of experience to easily set up your DPCTrack2 system and reduce the time it takes for your system to be up and running. With our custom-configuration capability, users can also tailor the system installation to accommodate most management and technical requirements. Need something special or have a suggestion for an improvement? The engineers at Prime Technologies are ready to work with you to enhance DPCTrack2's already incomparable functionality.
Training
Prime Technologies offers private training classes with a certified instructor. Plus, each class can be tailored to meet your specific needs. All courses are hands-on and encourage the active participation of the attendees to help ensure your organization's success.
Examples of Prime Technologies training programs include:
DPCTrack2 or ProCalV5 Generic Outline Training
Pre-Project Seminar and Key User Training
Project Staff Training
Validation Tester Training
Report Writer Training
CMS Specific Outline End-User Training
System Administrator Training
Technician Training
Read-Only User Training
Manager/Approver Training
Train the Trainer or Super User Training
Technical Support
Prime Technologies never leaves a customer alone to work through a data migration, installation, implementation, configuration or training challenge. Whether you are a Fluke DPCTrack2 customer or ProCalV5 user, we are here for you with expert support.
To ensure satisfaction and a quick start-up, the purchase of DPCTrack2 software includes 60 days of free support at www.dpctrack2.com. Extended agreements are offered and encouraged. For fastest assistance, please start by reviewing our FAQ page.
For Fluke DPC 743B, 744 and 754 support, please visit www.fluke.com/processtools or call 800-44-FLUKE or 800-433-5853.
Copyright © 2023 Prime Technologies Inc., a TMA Systems Company, Fluke Corporation DPCTrack2 Calibration Software | All rights reserved.